Time For Service? Bring Your Ford to Hillyer's Mid-City Ford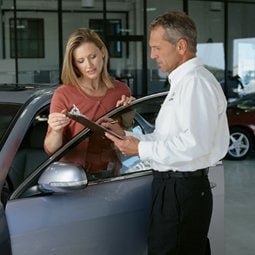 There are many drivers on the roads who do not care about their car maintenance. They risk driving cars that cannot sustain them on the highways for long. If you need a routine maintenance checkup, major repairs, parts, or any other service for your vehicle, our team and facility is the one-stop shop to come to.
We at Hillyer's Mid-City Ford offer experts who work around the clock to ensure that we help you give your car the recommended maintenance it needs to perform at its best.
When you come to our auto shop, we have experts familiar with short-term and long-term repairs. We have experts who are Ford specialists and have dealt with the same models for many years. All Ford owners are required to reference the owner's manual for scheduled maintenance. When you bring your Ford to us, you will be able to boost the value of your car, maintain your safety and protect the warranty.
Short term vehicle services generally include:
1. Changing the oil and filter
2. Cleaning and inspecting the battery
3. Tire service that includes adding pressure, balancing, alignment, and rotation
4. Inspection of all filters, fluids emissions, brakes, and hoses
5. Replacement of burned-out bulbs
When it comes to advanced car servicing, below are some of the things that we at Hillyer's Mid-City Ford can help you achieve:
Replacement of the serpentine belt or the timing belt
Servicing the heater/ air conditioner
Replacement of spark plugs, fluids, and filters
There are several reasons why you should always bring your Ford vehicle to us. First, our team of experts will let you know what is starting to wear out and what needs some replacement. Secondly, you can drive your car with a lot of confidence after leaving our auto shop. We, therefore, request you to book your next appointment with us.