Ford Parts Center in Woodburn, OR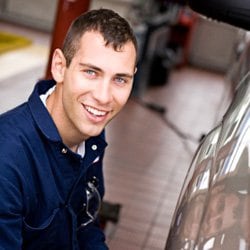 Long-Distance Driving
You are especially fond of long-distance driving. It is what you do to unwind from the stresses of life's daily grind in Salem. You and your Ford vehicle take a trip to a new destination every other weekend exploring the world around you. You enjoy the fun adventures the two of you share back and forth, reaching each new milestone.
But now, your car needs repairs. You need to take to have it serviced and get some of its parts replaced. You want the best car care for your road buddy. So, where should you take your vehicle? Where can you find genuine Ford car parts? We have the solution to your questions.
We at Hillyer's Mid-City Ford Parts Center in Woodburn can help. We carry a collection of authentic manufacturer's car parts at our Ford Parts Center.
One Place for Parts and Services
Newberg drivers can buy our genuine Ford auto parts and have their vehicle serviced in one place. Our certified, highly skilled technicians are well-known for their attention to detail. They are up to the challenge and will get the job done precisely.
More Cash Stays in Your Wallet
When you purchase from our Ford Parts Center, more cash will stay in your wallet because you don't have to burn fuel driving around McMinnville looking for vehicle parts and components.
Our genuine Ford parts will fit your automobile's make and model perfectly. You will not have to spend money to replace other well-functioning auto parts that could have been damaged if you used after-market parts.
People in Canby can contact us via our website or call us to schedule an appointment to bring their car into our service center. service center. Our technicians will diagnose and repair your vehicle. We look forward to having you back on the road, long-distance driving with your road-mate soon.